Bonus for Recruiting Agents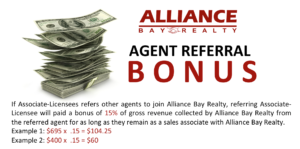 Alliance Bay Realty is rapidly expanding, it has over 750 real estate agents and broker associates. We are recruiting new agents!
We encourage you to take this great opportunity to make residual income by inviting other agents to join! You get paid for the agents you recruit and we pay you a bonus on agents you did not recruit. Your down pipeline of getting bonuses continues from the agents you brought in. This program is unlimited as long as the agent stays with Alliance Bay Realty.
If Associate-Licensees refers other agents to join Alliance Bay Realty, referring Associate-Licensee will paid a bonus of 15% of gross revenue collected by Alliance Bay Realty from the referred agent for as long as they remain as a sales associate with Alliance Bay Realty.
Example 1: $695 x  .15 = $104.25
Example 2: $400 x  .15 = $60
The Residual Income Will Continue To Be Paid To You For As Long As The Recruited Agents Stay With Alliance Bay Realty.
Here are some suggestions on how to recruit agents to Alliance Bay and to start earning your residual income:
Contact agents you know and tell them about your experience with Alliance Bay.
Email agents from your previous companies.
Email agents from your local Association of REALTORS®.
Promote Alliance Bay to the other agents involved with your transactions.
Post information about Alliance Bay on your own social media websites.
Post recruiting information on your own website.
Post recruiting advertisements on free marketing websites, such as craigslist.com or activerain.com etc.