ALLIANCE BAY REALTY SIGNS
Below are the samples of our signs. We can provide for you the standard Alliance Bay Realty yard sign "FOR SALE" (24x24inch.) There is no charge for the sign, but they are required to be checked out and returned.
Our preferred sign makers can make a personalized yard sign with your picture, name and other desired information. They provide the discounted price for Alliance Bay Realty agents.
You can contact the company to order Alliance Bay Signs:
O.D Signs: (510) 940-7446 ||  1680 W. Winton Ave #7 Hayward, CA 94545 ||  info@odsigns.com
You can also use any sign producers and sign designers if you prefer, but our company logo or name must be used on your signs. You can download the company logo from Alliance Bay Realty website.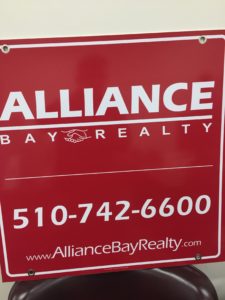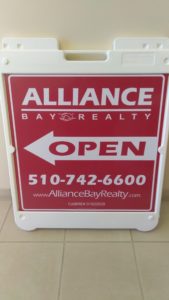 Sign/Post Installation Companies
The Companies below provide complete sign/post installations, maintenance and removal services. Please contact the Sign/post companies bellow for your listings.
Sunrise Sign & Post, Inc.

30081 Ahern Avenue
Union City, CA 94587
Telephone: 1-800-834-7390
Telephone: 1-510-259-2100
FAX: 1-510-259-2108
Email: info@signandpost.com
www.Signandpost.com
Login to place ORDERS
(Our phones are being answered live from 9:00am-11:00am and 1:00pm-4:00pm, Monday through Thursday, and until 3:00pm on Friday.)
Fast Post
Fast Post
Contact Chuck: Chuck@fastpost.com
855-391-3278  or 209-846-2621
has our generic office signs if you want them to hang it up for you/